At the start of last month I was given an amazing opportunity to help out with Encounters Festival in Bristol which is a short film and animation festival.
I spent most of my time helping out in the Arnolfini where all of the animation events were being held. It was great to meet fellow film makers and animators and I had some great chances to do some networking. I enjoyed the fact that all the animation screenings were organised into groups with a theme running through them like puppet animation or a bunch of creepy/disgusting animation. Some of the batches were better than others but if I had to pick on it would have to be the feel good factor which I enjoyed the most.
This screening included the award winning short of the festival called "In the air is Christopher Grey" by Felix Massie. I have to say that it was highly entertaining and really stuck out in my mind after the screening had ended.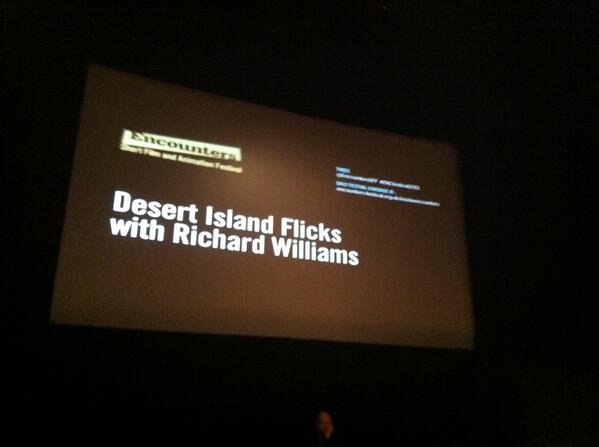 My own personal festival highlight was getting to sit in on the Richard Williams "Desert Island Flicks" interview hosted by Phil Jupitus. It was really surreal to be sat metres away from this amazing animation legend who has influence the industry and the way a lot of animators have learned their craft. It was also very pleasant and surprising to discover how much of an animation enthusiast and buff Phil was. He also disclosed in the interview that he had done cartooning before which I found fascinating and my respect for the man has grown. As for the flicks Richard had a pretty healthy pick of american animation ranging from big disney features such as "Dumbo" to the classic Chuck Jones short "One Froggy Evening". To top it all off Richard did include Bristol Based studio Aardman's "Pirates" almost as a nod the festival itself as it was the one and only non US animation he picked and even then he told us that it was between that or Toy Story.
Overall I enjoyed what I experienced and being involved in such a great festival really got me pumped to start working on my own short film work with a view of entering into future festivals. Up next on the horizon is the Bradford Animation Festival which is happening in the middle of November. I have applied to volunteer there as well but I am yet to hear if I have managed to get in. Either way I should be heading to it and I'm excited to see what BAF has in store this year.